EVENT DETAILS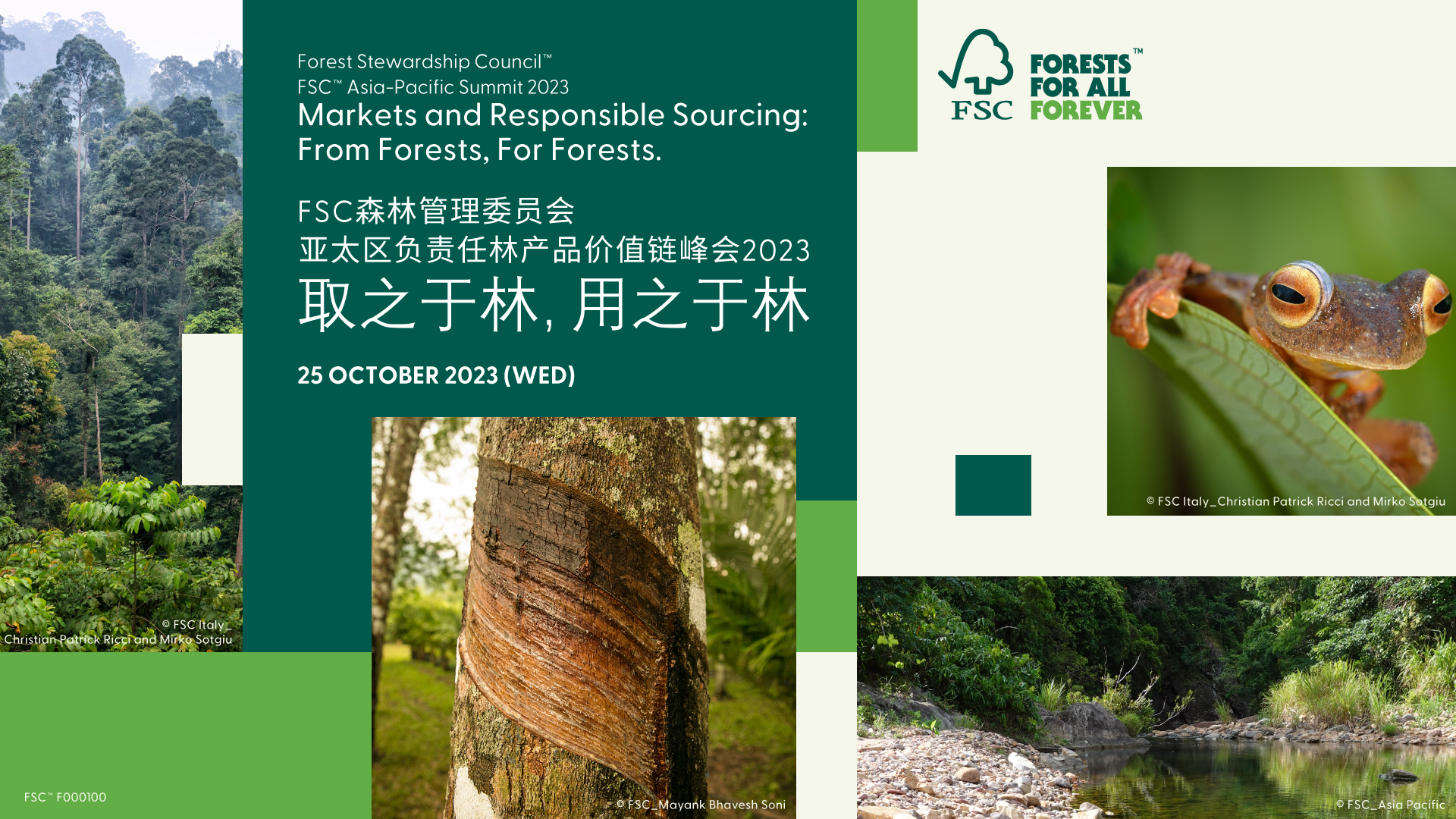 FSC Asia-Pacific Summit 2023
Markets and Responsible Sourcing: From Forests, For Forests
亚太区负责任林产品价值链峰会2023: 取之于林,用之于林
Date: 25 October 2023 
Time: 09:00 AM onwards 
Venue: Foshan, Nanhai Foshan, Guangdong, China
*Mandarin-English Simultaneous Interpretation Provided
中国与会者注册 请点进
The Asia Pacific region leads the narrative and driving demand for responsible sourcing across forestry products. With important supply and demand markets, some of the fastest growing economies and the most diverse consumer segments, the region is pegged to shape the future of the market for forest products.  
With its focus on driving climate and biodiversity action, the summit will provide numerous opportunities for networking, learning, and sharing best practices with industry experts, and corporate executives from across the Asia-Pacific region, Europe, and North America. FSC's annual flagship APAC summit will bring together diverse perspectives and key stakeholders – market and producers- to build synergies and bridge the gap between sourcing and supplying certified forestry products.  
The event will aim to build and strengthen action on responsible sourcing for forest product value chains – bringing in opinions, perspectives, insights and analysis from value chains like Rubber, Textiles and Tropical Timber. The glocal event is a melting pot of Asia-Pacific understanding with participation from across this region. The event marks the steps being taken to build a shared narrative, in the region for responsible sourcing in the forestry sector. With the support of multiple partner organizations and stakeholders in China, the event will aim to shape what we hope will become a concerted effort on responsible sourcing for forest product value chains.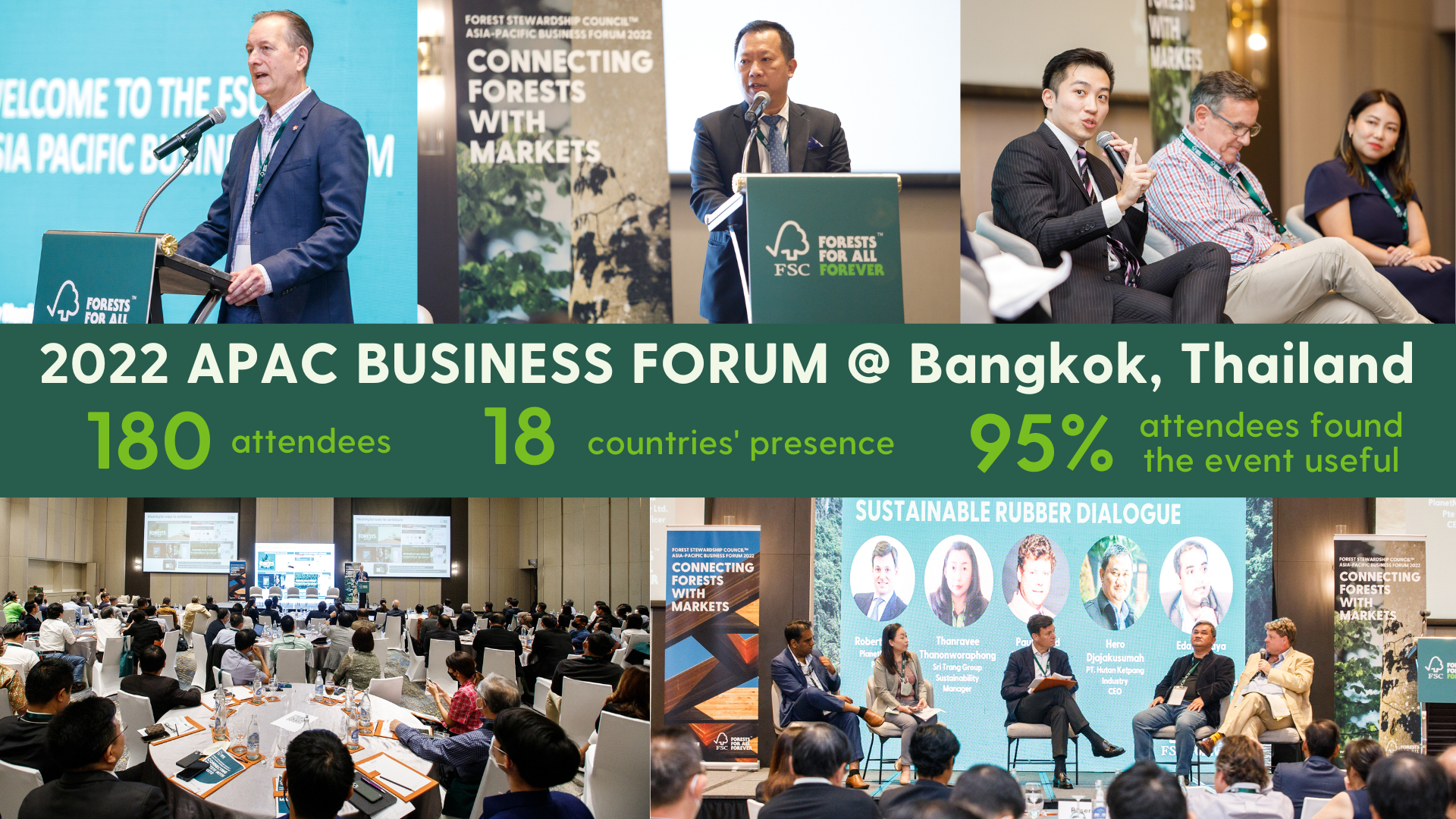 2023 TOPICS HIGHLIGHT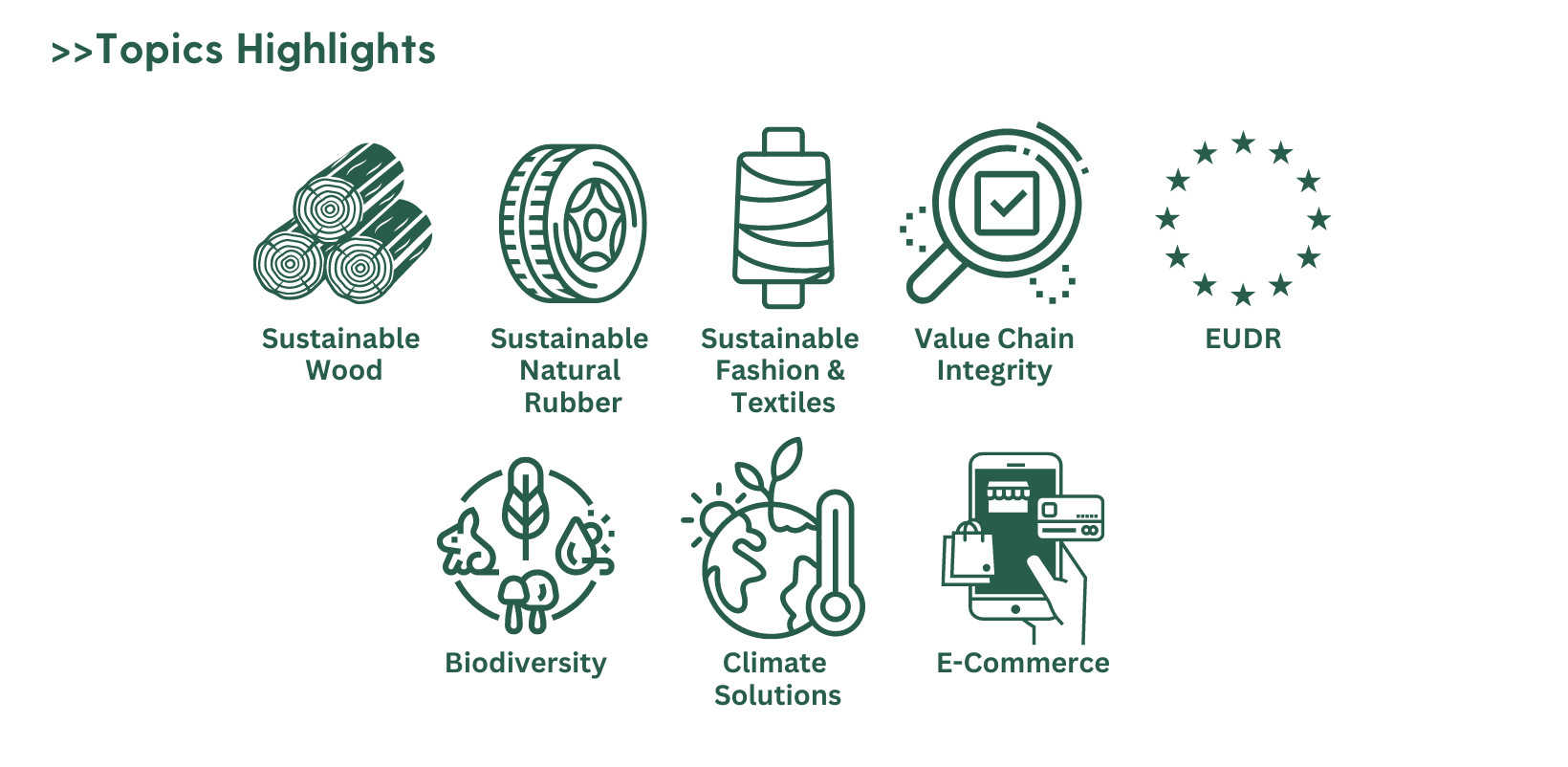 SUMMIT AGENDA
🌳AM SESSION 
WELCOME & OPENING
Opening Remarks by Kim Carstensen, FSC International Director General
PLENARY DISCUSSION
FORESTS AND INNOVATION
Participating Brands:
Birla Cellulose
CMO Group
Hainan Rubber Group 
and more
 
FSC SPOTLIGHT: TODAY AND TOMORROW, THE CONSTANT EVOLUTION OF THE ASIA-PACIFIC
NETWORKING TEA BREAK 
FASHION FOREVER GREEN PACT SIGNING CEREMONY
Participating Brands: 
Birla Cellulose
H&M
Jiangsu Dasheng Group
Yibin Grace Group
Value Source and more
PARALLEL BREAK-OUT SESSIONS:
RESPONSIBLE SOURCING AND FOREST VALUE CHAINS
Parallel Session 1: Dialogues on Sustainable Wood - The role of wood from sustainably managed forests in low carbon, circular and bio-economy. 
Participating Industry Players: 
Guangxi Sunway Group
Olam Group
ADEO China
Moderator: Gao Ya, Value Chain Development Manager, FSC International
Parallel Session 2: Dialogues on Sustainable Natural Rubber - How brands and manufacturers move forward to sustainability pathways.
Participating Industry Players: 
Ulrich Antoni, Head of Business Development & Partnerships, Agridence Rubber
Yang Yu, Vice General Manager, Hainan Rubber Group
Tat Win and more
Moderator: Sean Nyquist, Value Chain Development Manager, FSC International
Parallel Session 3:Parallel Session 2: Dialogues on Sustainable Fashion
Participating Brands: 
Arauco
H&M
Value Source Global
Yibin Grace Group 
Moderator: Devendra Gupta, Value Chain Development Manager. FSC International

________________________________________________
Networking Lunch 
________________________________________________
🌳PM SESSION
HOW FSC CAN SUPPORT WITH THE EUDR?
Led by Matteo Francesco Mascolo, Lead EU Affairs & Engagement, FSC International
PANEL DISCUSSION
BOOSTING INTEGRITY: BUILDING RESILIENCE THROUGH INNOVATIVE APPROACHES
Heidi Su, Head of Sustainability Asia, Suzano Asia
Marc Jessel, Chief System Integrity Officer, FSC International
David Brunelle, FSC Program Manager, Assurance Service International (ASI)
and others
 
CLIMATE & ECOSYSTEM SERVICES AT FSC
The session will unveil the true value of forests through FSC Ecosystem Service Claims for forest managers and businesses by measuring the full impact of excellent forest management and fostering partnerships that contribute to solving climate and biodiversity crises
Speakers: 
Fabian Farkas, Chief Commercial Officer, FSC International
Rocky Iskandar, Regional Climate and Ecosystems Services Lead, South East Asia, FSC International
CLOSING AND VOTE OF THANKS
NETWORKING COCKTAIL
*The conference programme outlined above is subject to change.
TICKET PRICE
 Standard Price: 200 USD/ Per Person

EVENT SPONSORS