FSC Friday 2020 Summary
Many of our stakeholders and partners played an active part in FSC Friday 2020. Though the pandemic prevented in-person gatherings, engagement on social media was excellent. Hundreds of posts were shared around the world, resulting in tens of thousands of engagements on Instagram and well over one million on Twitter.  
Across the Asia Pacific region, FSC-certified companies and promotional license holders including Asaleo Care, Beira Brush, Ex-Pack Corrugated Cartons, Fiji Pine, Fuji Xerox (Hong Kong), Greatview Aseptic Packaging, Green Production Overseas Group, Kimberley Clark, Printwell Inc, Tetra Pak Taiwan, TREE Hong Kong, Tropik Wood, UPM, Wellington Zoo, Woolworths, and YFY Packaging, contributed by amplifying social posts and augmenting them with messages of the importance of sustainability and how their products represent FSC's core concepts and sustainable ideas. 
WWF-Malaysia asked their followers to "do your part for our forests by committing to buy FSC-certified products and saying 'no' to illegally logged wood or violations of the human rights of forest workers." They also requested that followers share their favourite forest pictures on social media channels and tell their friends why forests should be protected.
Hong Kong-based Vitasoy held an online "FSC staff awareness" presentation with the FSC Asia Pacific Regional Office participating. Over 100 staff attended the event and a post-presentation quiz. The company also developed internal materials like a poster and a tote bag (seen below). Roberto Guidetti, Group CEO of Vitasoy International Holdings Ltd., started the event with a speech about the company's FSC responsible forest product procurement commitment, saying, "At Vitasoy we value tremendously our partnership with FSC that enables our win-win solution of providing plant-based taste and nutrition whilst ensuring that forests sourcing packaging material are respected and sustainably managed."  
FSC will sustain the momentum of FSC Friday through our strong membership network, comprising leaders from industry, environmental, social and Indigenous Peoples. We are well positioned to assist companies and governments as they seek joint ways to fulfil the United Nations Sustainable Development Goals, including the global green recovery from COVID-19. 
As we look forward to celebrating FSC Friday 2021 together – in person! – in a healthier and more stable world, FSC APAC asked everyone to remember to keep sharing posts and amplifying the voices of sustainable forestry through the #ForestsForAllTogether hashtag.  
Backgrounder
FSC Celebrates Forests for All Together on FSC Friday
After a year of worldwide climate protests, Earth Day 2020 – the 50th anniversary of this important day – was poised to be a defining moment in the fight against climate change. But a global pandemic eclipsed the celebrations with uncertainty and fear, as nations battled to "flatten the curve", leaving our unfolding environmental crisis on the side-lines.
While COVID-19 changed the world, climate change will create even greater impacts. It is our greatest collective challenge and can be sidestepped no longer. The 2020s is our "Decade to Deliver" – to uphold (or return to) the Paris Agreement, halve global carbon emissions, and decarbonise our economies.
Forests for All Together
At FSC, we know that one key solution to climate change resides in forests – natural climate solutions vital to any carbon-reduction efforts. Statistics show that by protecting about 400 million hectares of forests, we can slash carbon emissions by 5.5-8.8 gigatons by 2050, while preventing 700 gigatons of carbon dioxide from being released into the atmosphere. Proper forest management also limits the spread of infectious diseases by preserving natural habitats.
Unfortunately, we are losing our forests at an unsustainable pace of 7.6 million hectares per year. Now, more than ever before, sustainable forestry practices are essential, and it is imperative that countries prioritise responsible forest management. One proven measure is to leverage and deploy certification programmes such as the standard offered by FSC.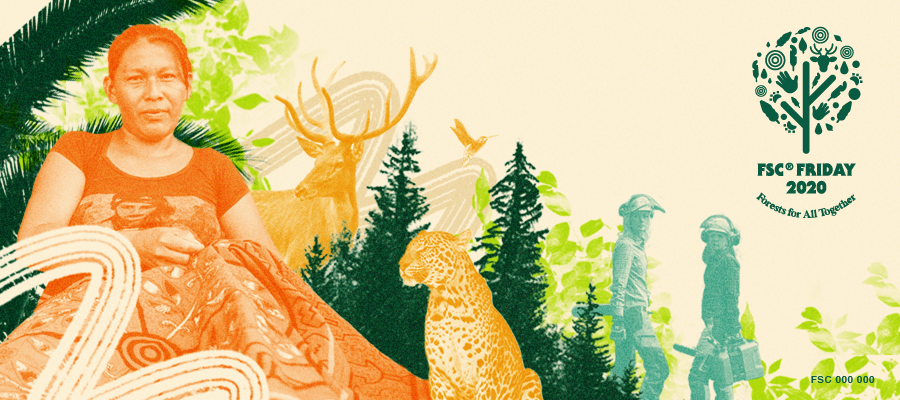 FSC-certified forests protect habitats and wildlife, ensure responsible forestry practices and also uphold Indigenous Peoples' rights. These communities have long kept our forests prosperous, with ways of life rooted in land management. Indigenous and community-owned lands include at least 1.2 billion acres of forest around the world, containing 38 billion tonnes of carbon stock. FSC standards protect Indigenous rights and when it comes to climate change, this is an impactful measure that helps mitigate global warming by maintaining or increasing carbon sequestration. 
FSC's strong membership network, comprising leaders from industry, environmental, social and Indigenous Peoples, is well-positioned to find joint solutions to global problems, including our green recovery from COVID-19.
As an organisation that has historically relied on in-person audits, FSC has already shifted operations to offer virtual assessments, and we are now exploring satellite imagery to help inform decisions for areas of higher risk around the world. This technology will enable us to see the state of the world's forests more clearly, bringing new, accurate ways to measure the impact of protecting these lands.
Additionally, many companies are reconfirming or advancing sustainability strategies, developing new partnerships, and working toward coordinated action. Individuals can decide to buy products from sustainable sources, support organisations that promote inclusion and sustainability, and vote for political parties that have a plan to fight climate change. These efforts, combined across countries, can have profound impacts.
This FSC Friday, we focus on the incredible ability that forests all over the world have to support humans, plants and animals and put the welfare of our natural environment at the centre of the decisions we make.
Join us in raising awareness about the importance of responsible forestry and the need for real change by sharing this story on Facebook, Twitter, or LinkedIn. #FSCFriday2020 #ForestsForAllTogether