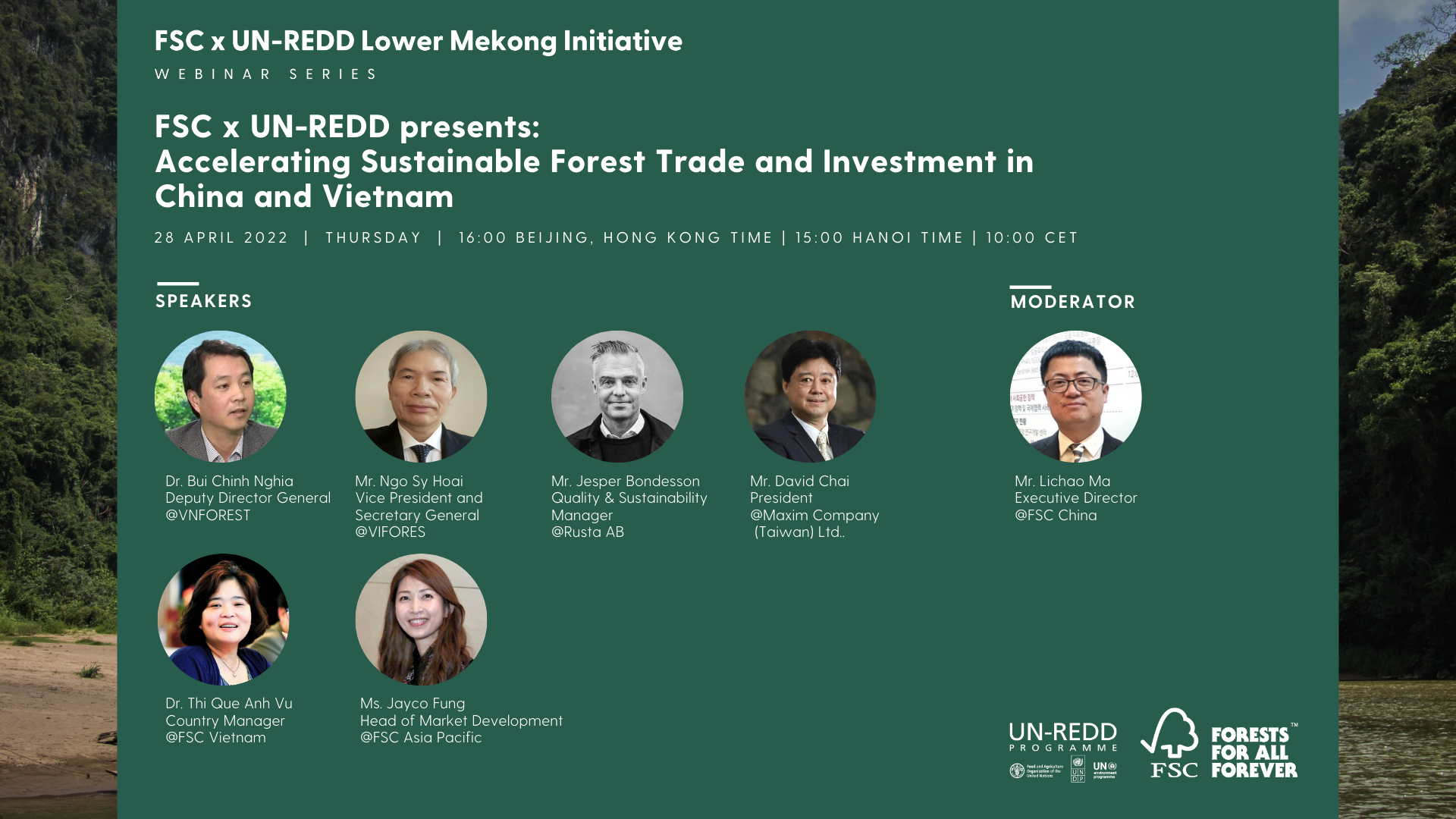 FSC x UN-REDD presents: Accelerating Sustainable Forest Trade and Investment in China and Vietnam
Thursday, 28 April 2022
16:00 Beijing/ Hong Kong Time | 15:00 Hanoi Time | 09:00 CET

China is a major consumer of tropical timber, and many suppliers are located in the Lower Mekong, particularly Vietnam. Ahead of us lie incredible opportunities to link the growing demand for sustainable timber products with responsible, certified suppliers. The FSC and UN-REDD Lower Mekong Initiative aim to bridge the gap through education and networking.
The second webinar "FSC x UN-REDD presents: Accelerating Sustainable Forest Trade and Investment in China and Vietnam" will consist of presentations and a live discussion with leading experts from both public and private sectors. Participants will be welcome to submit questions for a live question-and-answer session with the expert panel.
Speakers:
Dr. Bui Chinh Nghia, Deputy Director of the Vietnam Adminstration of Forestry (VNFOREST), the Ministry of Agriculture and Rural Development
Mr. David Chai, President, Maxim Co. (Taiwan) LTD
Mr. Jesper Bondesson, Quality & Sustainability Manager, Rusta AB
Mr. Ngo Sy Hoai, Vice President and Secretary General, Vietnam Timber and Forest Products Associations - VIFORES
Mr. Lichao Ma, Executive Director, FSC China
Ms. Jayco Fung, Head of Market Development, FSC Asia Pacific
Dr. Thi Que Anh Vu, Country Manager, FSC Vietnam

Panel Moderator:
Mr. Lichao Ma, Executive Director, FSC China
Who should attend:
• FSC certificate holders of all sizes
• International brands and retailers' sourcing companies
• Smallholders and SMEs to multinational corporations along the solid wood, panels, construction timber, and furniture value chains
• Anyone interested in the topic
 
Simultaneous interpretation will be available (English Mandarin and English-Vietnamese).
Registration closed.