Five years in the making, FSC has launched the Australian FSC National Forest Stewardship Standard — a true milestone for the industry and the community.
The new standard achieved majority support by members such as The Wilderness Society and WWF. It envisions to encapsulate the essence of all key stakeholders inputs on a wide range of concerning matters such as protecting high conservation value areas, sacred sites, and Indigenous and local community rights. As well, market factors such as the needs for consumer products and sustainable employment.
The new standard also provides practical advice and guidance for Australian FSC certified forest managers to check whether they have met FSC's requirements for sustainable forest management.
"FSC is recognised as the world's most trusted sustainable forest management solution, a practical tool to bring positive impacts to the forests, people and market— this is because we hold the highest global standards that balance the social, environmental and economic needs," says Adam Beaumont, Regional Director, FSC Asia Pacific. "By having a national standard which is developed to meet local needs and help further improve local forest management practices, we hope that more forest managers, processors, brands and retailers along the value chain will be inspired and see the needs to get FSC-certification."
The demand for sourcing forestry products responsibly has been increasing. A recent global consumer survey commissioned by FSC shows that a majority of interviewee value independent certification and many rank sourcing responsibly an important factor for purchase consideration.
"The new FSC National Forest Stewardship Standard gives consumers confidence that the Australian wood products they buy are from forests managed to the world's highest standard," says Sara Gipton, CEO, FSC Australia.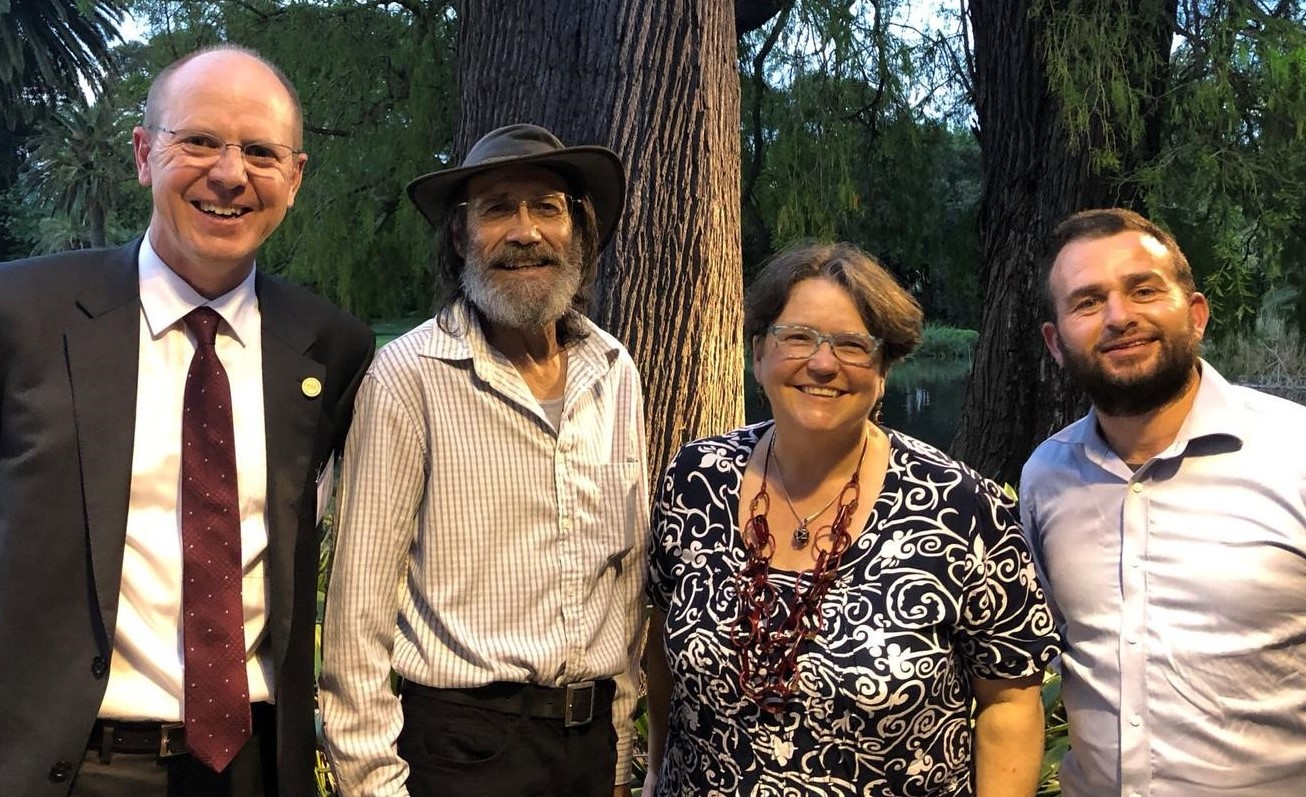 From left: Ross Hampton, the Australian Forests Products Association; Uncle Dave Wandin (Wurunjeri Elder); Sara Gipton, CEO, FSC Australia; Warrick Jordan, FSC Australia, Environment Chamber
"Major Australian retailers are demanding responsibly sourced timber and paper products. Retail giants Bunnings and Officeworks have both set ambitious targets for sourcing FSC sourced material. By 2020 Bunnings want 100% of products sourced from high-risk forests to be FSC certified, while Officeworks want 100% of their own-brand paper products to be either FSC certified or recycled. The new Australian FSC National Forest Stewardship Standard can benefit the forests that supply paper and timber to the retail sector."
FSC Certification has been proven to be a trustworthy scheme to improve forest management. Phil Whiteman, Environment and Certification Manager, HVP Plantations said, "Our company manages 240,000 hectares of land and harvests 3 million tonnes of plantation wood per year. This is all completed under full FSC Certification for Forest Management and Chain of Custody. The major benefits of certification for HVP Plantations are in undertaking and demonstrating continual improvement in forest management and improving outcomes for all stakeholders in our business."
Please visit the Forest Management Standards page for more detailed information, and to download a copy of the document.
FSC would also like to express its heartfelt gratitude to the Standard Development Group members that help make this standard:
Environment chamber
Economic Chamber
Social Chamber
Travis Wacey, union movement
Tim Anderson, Regional Forest Communities
Mark Annandale, Landroc
Members of Indigenous Working Group
Phil Duncan, Traditional owner from Gamilaroi Nation, Moree in north-western New South Wales
David Collard, Aboriginal NRM Coordinator State, Western Australia. From Ballardong region of Noongar Nation in south-west Western Australia.
Dr Sue Feary, heritage consultant, NSW
Dr Hilary Smith, Principle Latitude Forest Services company, NSW
We would also like to thank the participants of the Consultations during the standard development process.
If you're interested in taking part in FSC consultations, please visit our consultations page.