Global tyre manufacturer
Pirelli

announced today that it will only use

FSC-certified

tyres in all Fédération Internationale de

l'Automobile

(FIA) Formula One World Championship™ races starting from 2024.

Pirelli

has been Formula One's exclusive tyre partner since 2011; a partnership that has been recently extended until 2027 with a special focus on making Formula One more sustainable. 

Bonn, 10 October 2023 – FSC-certified tyres were introduced for the first time in 2021 when Pirelli made a breakthrough by producing the world's first Pirelli P ZERO tyre that uses FSC-certified natural rubber. Since the historic announcement, Pirelli's FSC-certified tyre has accelerated growth of sustainable natural rubber certification worldwide. FSC has seen its certified plantation footprint increased within countries already producing FSC-certified rubber, such as a Thailand, Indonesia, Sri Lanka and Guatamala, while also seeing rapid adoption of FSC rubber certification in additional countries like Vietnam, China, and Colombia. More rubber plantations in Asia and Africa are expected to join FSC's sustainable natural rubber movement in 2024, including Malaysia and Ivory Coast.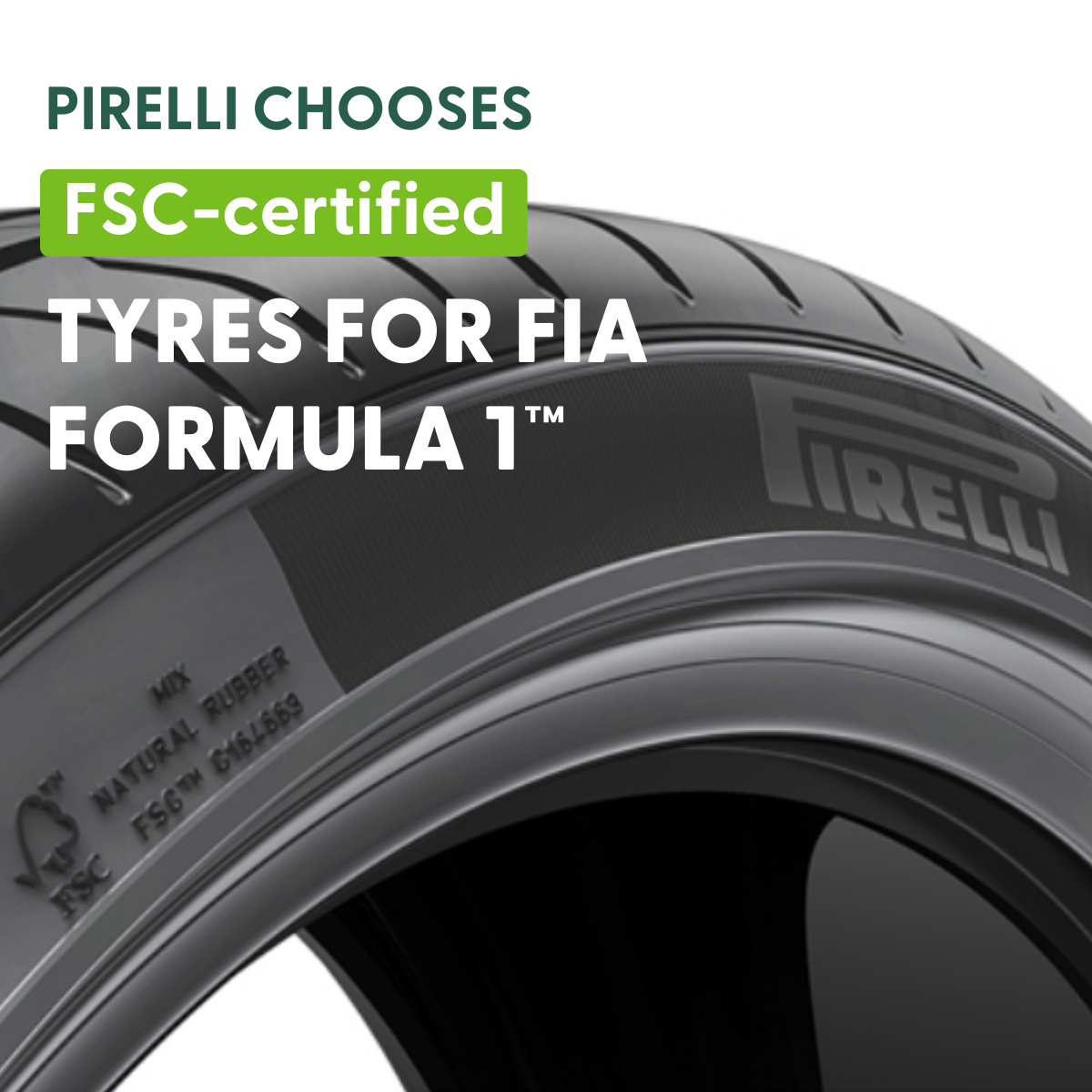 Tyre manufacturers purchase over 70 per cent of the world's natural rubber, making them a crucial part of sustainable natural rubber production. While this provides income for thousands of people, sourcing uncertified rubber can have harmful impacts on forests, ecosystems and communities, and could lead to deforestation and workers' rights violations. FSC certification is a proven tool for solving these challenges. Through its forest management (FM) certification, FSC confirms that the plantations of the forest-based components used in tyres are managed in a way that preserves biological diversity and brings benefits to the lives of local communities and workers. 
Farmers, companies, and consumers have an opportunity to truly reap the benefits that natural rubber can provide for people and the planet if they choose rubber from well-managed plantations and verified supply chains.  
"We celebrate this move towards FSC certification which sets a powerful precedent for sustainable practices in motorsport, demonstrating that high performance and environmental responsibility can seamlessly coexist" says Fabian Farkas, Chief Commercial Officer at FSC International. "Rubber is truly embedded in the automotive industry, and more companies must follow the movement towards sustainability through FSC certification which confirms that forests are managed to strict environmental, social and economic standards".  
FSC celebrates this milestone which represents a revolutionary shift towards sustainability in the global automotive and sports arena. We look forward to working with more companies to transform the future of sustainable natural rubber, supporting healthy, resilient forests and better livelihoods for farmers worldwide. 
To learn more about FSC's work in natural rubber, please visit this page.