The FSC Asia Pacific Business Forum 2019 wrap-up
Earlier this month, The FSC Asia Pacific 2019 Business Forum was held in Shanghai. More than 120 attendees – from retailers to producers to FSC-accredited certification bodies – gathered to share their insights and experiences from the past year.
The guest speakers and participants came from across the Asia Pacific region and Europe, working in industries related to wood, paper, furniture and non-timber forest products. By sharing FSC values, committing to the protection of forests, increasing community income and enhancing branding, the participants expressed optimism about the continued development potential and market prospects of FSC certification across the region.
In his opening address, Kim Carstensen, FSC Director General said "We are the world 's most trusted sustainable forest management solution". Celebrating the 25th anniversary of FSC, he told the audience that "Today, we have over 1,100 international members, 200 million hectares of certified forest, and 39,768 CoC certifications issued in 123 countries. We aim to deliver positive impacts for the forests, market and people – today and tomorrow."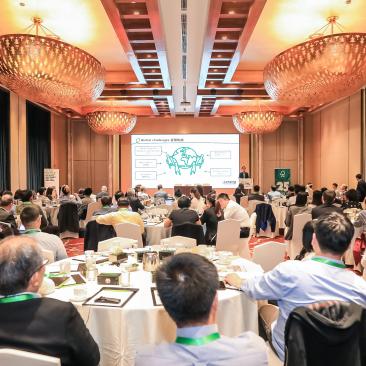 Jayco Fung, FSC's Interim Regional Director and Head of Market Development for Asia Pacific, also shared her observations from the APAC Regional Office in Hong Kong, saying, "APAC is a growing FSC certification market, and the number of certified forest products traded here has continued to increase in recent years. China and Vietnam have been in the top five for growth in CoC certificates in the past quarter, while China now has one-fourth of the world's FSC-certified companies. FSC APAC's key priorities are to increase our relevance by helping smallholders to get certified more easily with the simplified Regional Forest Management Standard, enhance government relationships and enter new markets like natural rubber and bamboo".
FSC China Executive Director Lichao Ma shared FSC China's efforts to promote awareness among consumers, saying, "FSC China is committed to enhancing consumer awareness which will lead to larger FSC demand in the market. This year, we held an exhibition at the Beijing Expo, an A-class global event. The exhibition lasted 162 days and attracted around one million visitors".
Participating organisations included Japan Airlines, Lenzing, DS Smith, El Corte Ingles, Li & Fung, L'Oréal, REWE, Sri Trang, Xylo and more, with representatives from each participating actively in discussions and breakout sessions.
Productive talks and meetings were held during the forum, with representatives from different points along various industry value chains discussing topics like the value proposition of sustainability, sourcing responsible materials, the challenges and opportunities involved in the natural rubber sector, and using forest-based materials to replace single-use plastics – a particularly productive session, which saw innovative products highlighted, like a fibre cup invented by Stora Enso which is being used to partially replace plastic cups, and a "whole plant" milk carton package being used in Taiwan by Tetra Pak.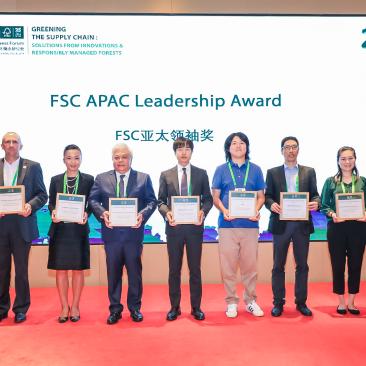 The delegates reported that more and more companies are making responsible forest management an essential part of their daily operations, while actively promoting green supply chains, conducting internal environmental education and achieving UN Sustainable Development Goals. These joint efforts are helping FSC become more recognised and more relevant – resulting in our fast growth in the region. To further recognise these successes, the forum also hosted the first-ever APAC Leadership Awards. Award winners from FSC-certified companies and Promotional Trademark License Holders included Maeil Dairies Co., Ltd, IKEA China, Kimberly-Clark Taiwan, Sunway Malls (RHB Trustees BERHAD), Stora Enso Consumer Paper Board China, Sichuan Qianwei Fengsheng Paper Co., Ltd, Tetra Pak Greater China and UPM China. As a gesture of thanks, gifts of FSC-certified wooden coasters, sponsored by Yong-Zai Forestry Co. Ltd, were also given to the guest speakers.
After a very productive couple of days, at the close of the forum, Mr Carstensen reiterated that the 38 per cent growth rate experienced in China by FSC was "incredible", and, after pledging to address issues around fraud and forest management growth, said he was "inspired by the commitment and engagement" of all the delegates and hoped that the dialogue and connections made at the forum would lead to "even more links for FSC in Asia Pacific in the future".
Afterwards, several participants gave feedback and spoke about their key takeaways. The learning and networking opportunities the forum provided came in for particular praise.
Kelly Yang, Corporate Communications and CSR Manager from Kimberly-Clark Taiwan called it the "perfect platform to engage the whole supply chain so we can learn from other companies about their best practices and have a lot of interaction to get more innovative forest management solutions".
Oscar de Frias Marin, the CSR Asia Pacific Manager from El Corte Ingles, enjoyed the forum, relating that "we have seen a lot of opportunities with FSC certification, not only with traditional pulp and paper but also viscose for fashion". He was also pleasantly surprised with the great potential of wood derivatives for replacing plastics.
The forum created a significant amount of media buzz in China in the days after – like this article covering UPM: http://www.cqqnb.net/society/2019/1026/141190.html